Venue
Pearlstone Center
5425 Mt. Gilead Rd.
Reisterstown, MD 21136
Click here for directions to Pearlstone
Click here to see a video of the Pearlstone Center
Pearlstone Center Offers a Space for Every Head Space
Yoga Pavilions: With a solid roof over your head and floor under your mat, you'll practice yoga in the fresh air and enjoy a different stunning view from each pavilion—true perfection a short ride away.
Lovelight Learning Lab: Get your professional certification or get your hands dirty in an art class in one of the 10 climate controlled classrooms of the Lovelight Learning Lab Building. Earn your Thai Yoga massage or Yoga astrology certificate, or create hand-crafted mementos from tie dye, textile, and more in classes taught by Lovelighters. Pre-registration is encouraged for all classes. Many classes are free with your entrance ticket; some require a registration fee for materials.
Lovelight Lounges: Festival life is exciting, somewhat strenuous, and the weather is sometimes sweltering or chilly. Refresh and renew by grabbing some complimentary water, sampling sponsor products, and cuddling up on comfy seating in one of three Lovelight Lounges located in the Lovelight Learning Lab Building.
Farm to Table Meal Plan: Your food was grown on the organic farm just steps from the kitchen in which it is prepared. The 90% plant based meal plan is available for purchase by all who attend!
Rising Rays Stage: Lovelighters from all over the country lead Community Chanting from morning to night. Chant, meditate and practice your peace; your contribution to this spiritually fueled stage is an invaluable gift to the community.
Boogie Barn Nights: The Boogie Barn is always hopping; and, there's air conditioning so you won't be sweating! During the day you'll take wellness classes and have artistic hands on adventures. At night, immerse yourself in an IDM/EDM oasis of mind blowing beats and projection mapping.
Main Stage: You know that the Lovelight main stage is always outstanding; nothing has changed. Enjoy Krishna Das in a rare east coast Festival appearance; and, keep an eye out here for more exciting music announcements.
Three Pools: Love it.
5-acre pond: Stand Up Paddle Board anyone?
Hiking Trail: Do a challenging run up a hill or take a romantic stroll through the high grass; you can have a different quick walk each day by using a new access point along the 2.4 mile Hiking Trail that meanders around the property.
Meditation Garden: You will call this serene spot one of your special spaces.
Campfire: Every night, after the mainstage, come to the community campfire to rejoice and reflect. Be inspired by fire spinners, light artists, drummers, and dancers and create tribal magic through chanting, dancing. Your acoustic journey may be deepened through a Cacao or maca ceremony, a vedic or yoga astrology reading, or a henna tattoo.
Fitness Room: At Lovelight, you join the cosmic circus and your wellness routine remains uninterrupted! Complimentary with your sleeping room fee; you have access to a treadmill, elliptical, free weights and everything you need to keep on track all weekend. Campers receive a discount on day or weekend passes.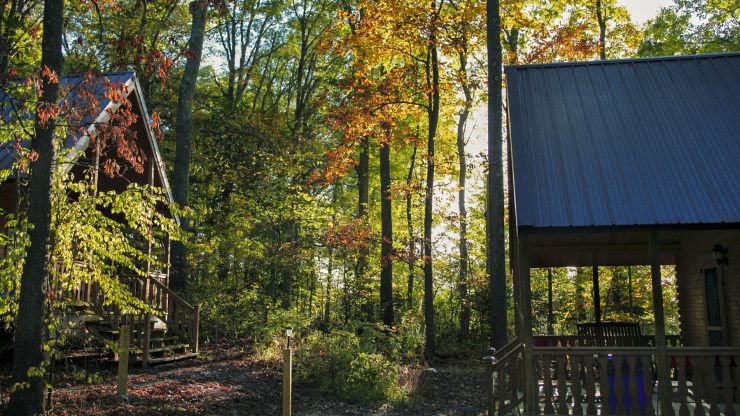 Click Here to Reserve Your Accommodations
Accommodation Options:
Climate controlled hotel style rooms with private baths
Dorms for singles and small groups
Cozy cabins with kitchens
Affordable tents set up for you by Dancin' Dave's Festival Camping
Glamping-Luxury canvas safari tents with electricity and queen beds.
RV parking (no hook ups)
Convenient car-camping sites
Click Here to Reserve Your Accommodations
Check out the Ways in Which Sustainability is Weaved Into Every Aspect of Pearlstone's Operations
Maryland Green Center
Pearlstone is being certified as a Maryland Green Center through Maryland Association of Environmental and Outdoor Education (MAEOE).
---
NWF Certified Wildlife Habitat
The National Wildlife Federation® (NWF) recognizes Pearlstone Center in Reisterstown, MD as an official Certified Wildlife Habitat™ site.
---
Maryland Green Registry
Pearlstone Center is listed under the Maryland Green Registry as an organization that promotes green practices and is working towards a sustainable workplace.
---
Sustainability is at the core of what we do at Pearlstone Center.
Pearlstone's Community Sustainability Department embodies the Jewish value of preserving the earth's resources for future generations, thereby enhancing community vibrancy and our quality of life. Pearlstone's mission is to foster a more sustainable future by reducing our environmental impact and by increasing environmental-behaviors in the operations of Pearlstone.