Venue
Casa Om Potomac
681 Carlyle Rd, Martinsburg, WV 25404
Casa Om Potomac Living Room
Casa Om Potomac is a boutique yoga retreat center built with love and filled with the nicest people to make your stay unforgettable.
The Land with a View
Casa Om Potomac, perched on the banks of the Potomac River; the estate embraces the wild and wonderful landscape of West Virginia and boasts 60 acres of lush woods with winding paths. The grounds are a nature lover's wonderland and feature a cave and access to the river and C&O canal.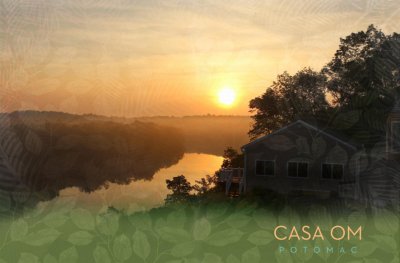 Sleeping Rooms
The well appointed retreat center, offers 10 sleeping rooms ranging from twin, queen, and king beds. All rooms have private baths.
Travel Times
It is a short trip to many DMV cities; check below to see travel times.
| | |
| --- | --- |
| Location | Travel Time |
| Harpers Ferry, WV | 22 min. |
| Clarksburg, MD | 1 hr. 01 min. |
| Berkeley Springs, WV | 46 min. |
| Winchester, VA | 41 min. |
| Fredrick, MD | 50 min. |
| Boonsboro, MD | 57 min. |
| Rockville, MD | 1 hr. 13 min. |
| Bethesda, MD | 1 hr. 22 min. |
| Columbia, MD | 1 hr. 22 min. |
| Harrisburg, MD | 1 hr. 35 min. |
| Baltimore, MD | 1 hr. 35 min. |
| Takoma Park MD | 1 hr. 32 min. |
| Wash., DC | 1 hr. 38 min. |
| Arlington, VA | 1 hr. 32 min. |
| Alexandria, VA | 1 hr. 40 min. |
| York, MD | 1 hr. 40 min. |
| Pittsburgh, PA | 2 hr. 59 min. |
| Philadelphia, PA | 3 hr. 08 min. |
| Princeton, NJ | 3 hr. 48 min. |